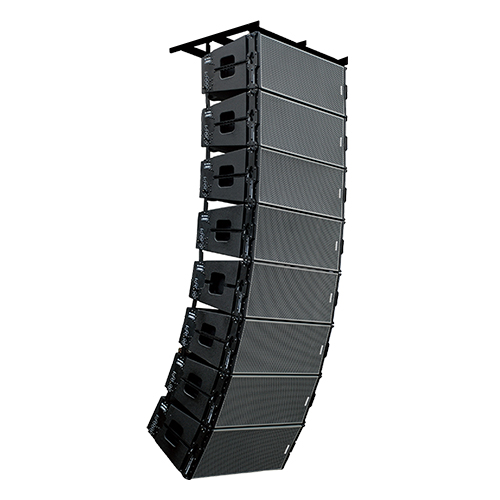 system is a line source system and is suitable for indoor and outdoor PA enhancement, where high SPL at long distances is key. The TLA SERIES system is fully integrated and requires no tools for full installation.

TLA is specially designed for large scale concert halls. They feature perfect low-pitched sound playing from 4" (100mm) Neodymium driver and powerful magnet. In particular, the low-pitched unit designed by our own special coating remains intact without any transformation over time, and it is designed to have the excellent performance in spite of an amplifier's degradation. In addition, its 3" titanium-compressed driver applied in medium and upper range and network design superiorly play sounds in order for audiences to be able to be fascinated by acoustic performance surrounded by plentiful low-pitched sounds and natural and clear performance. Also, an enclosure designed with specially-bonded plywood doesn't generate unnecessary resonance around speakers. The TLA series is designed to be one with the TLA-181 Sub-Woofer.

TLA 12 Perfect line source system
* Large concert hall.
* Auditorium and theater.
* Interior and outdoor festivals
* Stadium
Model: TLA-12 (Dual 12″ 2way full range line source system)
Power Capacity: 800W RMS / 1600W Program
Nominal impedance: 8 Ohm
Frequency response: 43~19KHz
Average Sensitivity: 113dB
Calculated Maximum(SPL/1m): 148dB (1box)
Nominal Directivity(-6dB): 110°(H) x 5°(v) a bove 750Hz
Low Frequency driver: Custom made 2×12″ Beyma driver / Neodymium magnet, 4" Titanium Voice coil
High Frequency driver: Custom made 2×3 Beyma driver / Neodymium magnet, 3" Titanium Voice coil
Flying hardware: Integrated Rigging
Connectors: 2x NEUTRIK Speakon® NL4MP (1+/1-)
Cabinet: CNC made with tongue and grove assembly 18&25mm birch plywood
Finish: Touring grade textured black mat rubberized coating
Size: (WxHxD) 975 x 360 x 460mm
Weight: 46kg net, 52kg gross